Family Cosmetic Dentist Blog
Posts for: April, 2015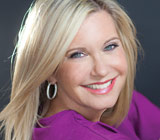 Though it's been a while since Olivia Newton-John sang her way into our hearts in the movie Grease, her smile is as radiant as ever. Today, Olivia is still singing, acting and busy with new ventures such as authoring a cookbook and raising money for the cancer center that bears her name in Melbourne, Australia. Whichever part of the world Olivia finds herself in, she protects that beautiful smile with an oral appliance that many find beneficial.
"I wear a nightguard to prevent wear on my teeth, custom-made by my dentist," Olivia recently told Dear Doctor magazine. "I love it!"
Olivia's device, also referred to as a bite (occlusal) guard, is designed for people who clench or grind their teeth at night, or during stressful periods. Made of thin, wear-resistant plastic, it is custom-made to fit exactly over your top teeth. This allows the bottom teeth to slide gently across the top teeth without biting into them. Not only does this prevent excessive tooth wear, it also helps relax the muscles of the jaw.
Grinding or "bruxing," as it's also called, can affect virtually any part of the oral system: the jaw joints or muscles, resulting in spasm and pain; the teeth themselves, resulting in wear, fractures or looseness; it can even cause an aching in the ears, head, neck or back.
If you are a teeth-grinder, you might not even know it unless a sleeping partner hears it or your dentist notices signs of wear. These habits are called "parafunctional" (para – outside, function – normal), meaning the biting forces it generates are well outside the normal range — sometimes as much as 10 times normal. So it's no wonder that damage to teeth can occur if they are not protected.
If you have any questions about grinding habits or nightguards, please contact us or schedule an appointment for a consultation. If you would like to read Dear Doctor's entire interview with Olivia Newton-John, please see "Olivia Newton-John." Dear Doctor also has more on "Stress & Tooth Habits."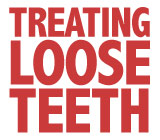 Adult teeth aren't meant to be loose — it's a sign that something is wrong. And while there are treatments, time is of the essence before permanent tooth or bone loss occurs.
Loose teeth can occur for many different reasons. Bite-related problems are fairly common, referred to as occlusal trauma ("occlusal" – bite; "trauma" – injury). This could be the result of excessive force placed on otherwise normal teeth and jaws — chronic clenching or grinding habits, for example. On the other hand, even normal biting or chewing can cause teeth to loosen if bone loss from gum disease has become excessive, reducing the remaining attachment to bone to inadequate levels. In some cases it can be a result of both excessive force and weakened bone levels.
Of these reasons, the most common cause is the weakened attachment of the teeth to the bone due to gum disease. If this is the case, it's important first to treat the gum disease by an appropriate strategy for the disease present and then implement an effective dental hygiene program to inhibit reoccurrence.
As for the problem of loose teeth, there are measures to address it. Occlusal bite adjustment reduces the degree of force when biting or chewing by reshaping the biting surfaces through selective grinding. Splinting is another technique in which the teeth are joined together to make them more rigid and to redistribute the biting force among several teeth. This can be done with material bonded across the outside of several teeth or with a metal splint affixed within a pre-cut channel across the teeth. A more permanent option is to create a series of crowns to affix to the teeth and then fuse them together.
Although more complex, orthodontics to correct misaligned teeth is another option. Not only will it improve the bite and potentially reduce bite forces, it may also improve the health of the supporting periodontal attachment.
Before undertaking any treatment, you should first undergo a thorough exam to determine the true cause of your loose teeth and any underlying conditions. From there we can recommend the best approach for treating and preserving your teeth.
If you would like more information on treatments for loose teeth, please contact us or schedule an appointment for a consultation. You can also learn more about this topic by reading the Dear Doctor magazine article "Treatment for Loose Teeth."